2020 Hyundai Elantra Review

Our entire Sussman Auto Group team is dedicated to helping Jenkintown, Abington, and Willow Grove drivers find the car that fits right in with their particular needs and priorities. To accomplish this, we strive to offer as much information as possible.
That's where this 2020 Hyundai Elantra review comes in. Our intention is to give you detailed descriptions of some of the highlights that set the vehicle apart, such as interior comfort, convenience, and safety. Dive in to discover if this is the sedan for you.
Interior Dimensions for the 2020 Hyundai Elantra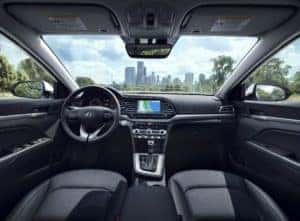 The moment you and your passengers take your seats inside the 2020 Elantra, you'll be greeted by an abundance of space from front to back. For instance, the seats in the front row provide you with 40.3 inches of headroom, 42.2 inches of legroom, 56.2 inches of shoulder room, and 53.4 inches of hip room.
The second row contains just as much roominess. Whether they're your children, the other half of your double date, or your pets, whoever is sitting back there will get to enjoy 37.3 inches of headroom, 35.7 inches of legroom, 55.3 inches of shoulder room, and 51.9 inches of hip room.
Even with all this comfort, you can still expect the Elantra to supply you with plenty of space to stow items like luggage and shopping bags. That's because the vehicle features 14.4 cubic feet of cargo volume.
Shop the 2020 Hyundai Elantra Inventory here!
Convenient Touches

The available navigation system is one aspect of convenience that's particularly worth mentioning. It provides you with an 8-inch high-resolution touchscreen to see and access the controls and settings easily. This is so you can direct most of your attention toward the drive itself.
The Hyundai Elantra is also available with a power tilt-and-slide sunroof that effectively floods the cabin with refreshing warmth and sunshine.
Reassuring Safety Features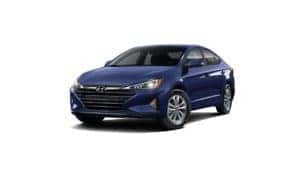 Whenever you get behind the wheel of the 2020 Elantra, you'll be comforted to know that it supplies you with several handy safety features that are there to assist you every step of the way.
First, there's the Driver Attention Warning that comes standard. It can recognize distracted driving behavior and let you know that it's time to pull over for a break. This feature can be especially useful on longer trips or when you're driving late at night.
There's also the standard rearview camera that makes it easier for you to back in or out of a parking spot. This is done by displaying a clear picture of the area behind the vehicle directly onto the dashboard.
Get into the Driver's Seat of the 2020 Hyundai Elantra Today
Now that you've had a glimpse into the world of the 2020 Hyundai Elantra, it's time for you to experience it in the flesh.
Jenkintown, Abington, and Willow Grove drivers can learn more about these and other Elantra features by contacting our team here at Sussman Auto Group. When you do, we'll get you all set up for your test drive.