Oil Change near Abington PA
If your dashboard display or window sticker says it's time for an oil change, you may be wondering where to make an appointment.
Make Sussman Auto Group your top choice: With over 50 years in the business, we've completed a lot of oil changes near Abington, PA. That experience, plus our top-notch customer service and well-equipped service centers, means we know how to meet your needs.
Schedule an oil change with our service center online here!
Schedule Service
Oil Change near Me
Getting an Oil Change near Abington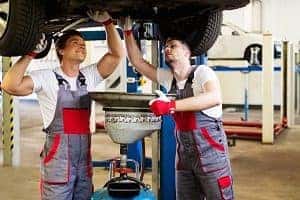 When you make an oil change appointment at one of our nearby service centers, we'll make sure to have the right oil and filter in stock before you arrive. Knowing just what you need—including the weight and type of oil—helps us get you in and out in a timely manner.
Our full-service oil changes start by draining all the motor oil out of your engine. We store all used oil in order to properly dispose of it later.
Once this step is complete, we'll remove the oil filter and replace it with a new OEM filter. If motor oil is your car's lifeblood, then the oil filter is its kidneys: it removes debris and other impurities that could otherwise cause harm to your engine. Therefore, it's important to replace this filter at every oil change, to ensure proper function.
Finally, we'll add fresh, new oil to your car in accordance with manufacturer recommendations. If your vehicle has an oil maintenance reminder, we'll reset it. We'll also check the oil level on the dipstick to make sure you drive away with the correct amount of fluid.
When to Change Your Oil

This routine maintenance is one of the most frequent services your car requires—but luckily, newer vehicles can go longer and longer between oil changes. For instance, it used to be commonplace for manufacturers to recommend an oil change every 3,000 miles.
Now, many manufacturers have decreased the frequency to 5,000 miles or more. Some newer vehicles, especially those that use synthetic motor oil, only need this service every 10,000 miles.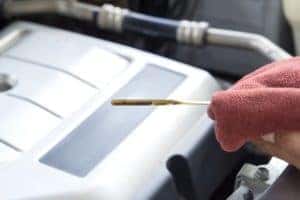 That's a big ballpark—so how do you know which interval is right for your vehicle? The easiest way to find out is by checking your owner's manual. If you don't have access to that, our service technicians can help you figure it out.
There are also a couple signs you can look out for to determine whether it's time for an oil change. Look for things like:
Dark color and gritty texture
White spots on the oil
Low fluid level
Louder engine noises
Visit us for Your Next Oil Change!
When your car, truck, or SUV needs an oil change near Abington, PA, take it to Sussman Auto Group. We offer several service centers near you, making it even more convenient to get routine service when you need it.
Contact us today or visit the service center closest to you to schedule your appointment!