Oil Change near Glenside PA

Looking for somewhere to get an oil change near Glenside? You've come to the right place! At Sussman Auto Group, we proudly offer drivers in the Glenside area convenient and comprehensive service to help keep your vehicle in tip-top shape.
On this page, you'll learn more about the importance of oil changes, signs that it's time for an oil change, and how we can help. Read ahead to learn more!
The Importance of Regular Oil Changes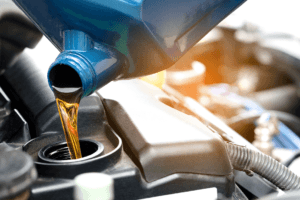 The oil in your vehicle plays an important role in the functionality of your engine system. First and foremost, it's in charge of lubricating the many different parts that make up this system, so they can work together without creating dangerous amounts of friction and heat.
Secondly, oil is in charge of keeping the many different parts of the engine system clean. When debris gets built up in the engine, it can cause problems and even prevent the engine from starting. Regularly scheduled oil changes will drastically reduce the risk of problems under the hood.
Signs that You Need an Oil Change
How often you need an oil change depends on the kind of oil your car uses. If your vehicle uses conventional oil, you'll need to change your oil about every six months, or between 5,000 and 7,000 miles. Synthetic oil, by design, can last up to a year between changes.
Sometimes things don't always go as planned, though. You may need an oil change sooner than that if something goes wrong, and your vehicle will usually tell you by exhibiting these signs:
The Check Engine or oil change dashboard warning lights are on.
Your engine is making knocking, scraping, or grinding noises.
There's a smell of burnt oil inside the cabin of the vehicle.
Your exhaust smoke is much thicker than it normally is.
If you're experiencing one or more of these things, it's likely that your engine is experiencing a problem. You'll want to have it looked at by a professional.
At our service center, you'll find a team that's well versed in all different types of routine maintenance, and unexpected repairs, including oil changes. No matter what kind of vehicle you have or what kind of engine oil it uses, you can count on our service team to get the job done quickly and correctly, so that you're back on the road and back on schedule as soon as possible.
With service centers in Jenkintown, Abington, and Willow Grove, Sussman Auto Group is proud to provide drivers near Glenside with all the routine maintenance services they need to properly maintain their vehicles. After reading more about us on this page, we hope you'll think of us when it's time for your next oil change.
If that time is now, you can easily schedule an oil change by giving us a call at the service center, by using our convenient online appointment schedule, or by stopping by the service center!